Prince Edward Island is one of eastern Canada's maritime provinces, off New Brunswick and Nova Scotia in the Gulf of St. Lawrence. You can visit tourismpei.com to find out more about Prince Edward Island and the many interesting places to visit in this province. The large island is noted for its beauty and quaint colourfully painted homes, often found in the Maritimes. It is marked by red-sand beaches, lighthouses, and fertile farmland, and is renowned for seafood like lobster and mussels. There are 23 provincial parks in PEI, each with its own unique landscape, features, and natural wonders.
Charlottetown, the capital, is home to Victorian government buildings and the modern Confederation Centre of the Arts, with a theatre and art gallery. Charlottetown, Prince Edward Island is known as the birthplace of Canada's Confederation, as that is where the signing of documents took place in 1864.
Many associated PEI with Lucy Maude Montgomery's series of books, most notably 'Anne of Green Gables'. Thousands of people visit Anne-related attractions all over the island each year.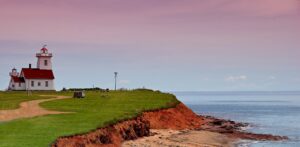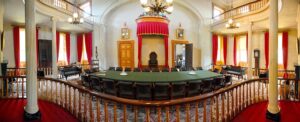 The island is known in the Mi'kmaq language of its historic indigenous occupants as  Abegweit or Epekwitk, roughly translated as "land cradled in the waves". The climate of the island is a maritime climate considered to be moderate and strongly influenced by the surrounding seas. It is milder than inland locations owing to the warm waters from the Gulf of St. Lawrence. The weather changes quite a bit and weather conditions seldom last for long.
If you want to visit or work in this lovely province and require assistance in any way, contact Migrating Bird Immigration Services via Email: 
info@mbis.ca
or telephone: 001 (604)-362-1969.