Learn about Quebec through photos and videos and read about some of the reasons to visit, work, or settle there below. If you are coming to Canada as a tourist, you won't be disappointed by Quebec. It has a great deal to offer. Whether you are into nature and beauty, architecture, entertainment, sports, fine dining, fashion, Quebec has it all! There is a wonderful museum situated where Quebec borders Ottawa, Ontario called The Canadian Museum of Civilization, a must-see if you are visiting the area.
Parts of old Quebec resemble old-style Europe more than any part of Canada. This is truly a magnificent province with its history and culture, diversity, style, beauty, and number of natural lakes. The  Saint Lawrence River has played a huge role in determining the province's history, bring the first European explorer Samuel de Champlain who built Habitation de Québec, as a permanent fur trading outpost, now Quebec City. He befriended the first nations already inhabiting the area, the Algonquin and Huron, forming a trading and military alliance with them. If French is your first language, you will fit right in and score better on your profile.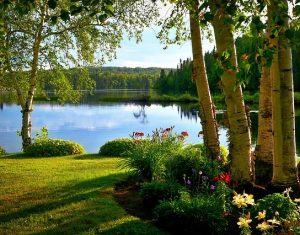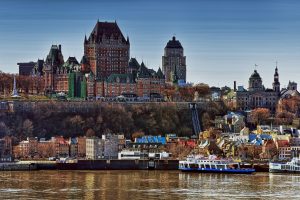 Forestry and Hydro-Electric Energy are two big industries in Quebec. Being Canada's largest province, it is open to all kinds of agricultural and tourism industries, including downhill skiing at Mont Tremblant in the winter. Each year Quebec City hosts Carnaval, a marvelous celebration of winter with night parades of floats of lights, ice sculptures, parties, balls, etc. Watch a video issued by Quebecregion about the many ways to enjoy winter in the province.
With older cities such as Montreal and Quebec City and all the smaller cities and rural towns, this is by far one of Canada's more interesting and historic provinces. The old architecture in these cities is wonderful. Montreal has always been known for its stylish way of dressing, and had a large rag trade industry there for years which is smaller but still exists. It boasts huge outdoor markets, streets shut off from traffic with sidewalk cafes, and fine restaurants serving food from around the world in this multi-cultural city. Montreal has a rich nightlife with something for everyone to enjoy from outdoor festivals, art galleries, performances in a variety of genres, and more.
Quebec is historically and politically considered to be part of Central Canada. It borders Ontario on its west side and James Bay and Hudson Bay to the north. The Gulf of Saint Lawrence cuts an extensive path through the province and is responsible for its substantial growth in the early days of the province and to this day. Newfoundland and Labrador are its neighbours with New Brunswick and the US states of Maine, New Hampshire, Vermont, and New York flanking its southern regions. Quebec shares maritime borders with Nunavut, Prince Edward Island, and Nova Scotia. It is Canada's largest province by area and its second-largest administrative division. It is a wonderful province to visit, as it offers everything from nature and natural resources, to big city life and culture, business, and tourism with a flair.
When you are ready to apply to visit work or settle in Quebec, read about the programs, and then contact the experienced immigration consultants at MBIS.